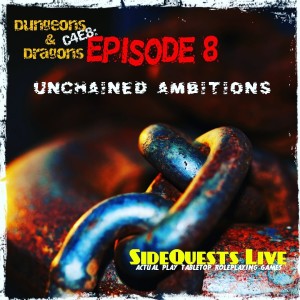 Wednesday Mar 25, 2020
Ep.8 - D&D - "Unchained ambitions" - Morally Ambiguous: Homebrew - Campaign #2
Episode 8: Having kidnapped the regional magistrate 'Herron', the team works with Sara Tellbourne, a local brigand leader, to get what they want from the evil magistrate. But Herron isn't what he appears, his devilish nature is revealed and his machinations may yet prove too much for the party if they aren't careful...
Welcome to our tabletop, everyone is currently Level 7.
********
Archibald, Dandy/Duelist Rogue  (Jay)
Benkuhm, Goliath Barbarian (Trent)
Darmita, Gloomstalker Ranger (Bela)
Fenris, Shadow Sorcerer (Gord)
Johannes, Bard of Swords (Levi)
Umbra de Seara..., Druid/Warlock of the shadowfell (Darcy)


* * * * * * * * *
Thanks for listening to our podcast edition of our tabletop roleplaying games. To find more content, including our video editions, our social media things and more, check out our links at  https://linktr.ee/sidequestslive
If you enjoyed, please click the follow, comment and review us, we'd really appreciate your support.
------------------------------------------------------------
*Images and music used are Creative commons. *Specific Music and visuals attribution credits are included at the end credits of our visual feed (YouTube, Twitch VOD) *Images from Pixabay. *Special Thanks goes to all content creators, especially those at filmmusic.io We are not endorsed by nor affiliated with any respective copyright holders (Catalyst games, Wizards of the Coast, etc.) We incorporate live chat suggestions/input into the game.Find updates on Twitter & Instagram: @sidequestslive
Welcome to our tabletop!